Eagles Add S Phillips, CB Williams To Defensive BackField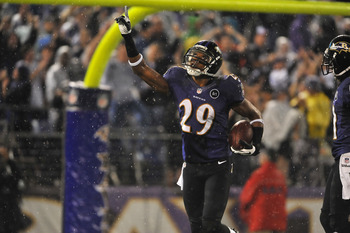 Follow Jeff on Twitter @Jeff1470TheFox For All The Latest Eagles and NFL Coverage!
After witnessing a 2012 season where the Eagles defense gave up a league worst 33 touchdowns through the air, there was no doubt in anyone's mind that the Eagles needed to address the weakness in the secondary. And so far this offseason, that is exactly what Chip Kelly and the Eagles brass has done.
On day 1 of free agency they locked up S Patrick Chung and CB Bradley Fletcher and now on Thursday they sign a few more pieces to make their secondary complete. The Eagles announced they have come to terms with former Giants S Kenny Phillips(1 year deal) and former Ravens CB Cary Williams(3 years, $17 Million). So the Eagles go from Nnamdi Asomugha, Dominique Rodgers-Cromartie, Kurt Coleman and Nate Allen to Chung, Bradley, Williams, and Phillips!
The 28 year old Williams(6-1 185lbs) has spent the last three and half seasons in Baltimore after getting traded getting released by the Tennesse Titans in 2009. And has started all 32 games the last two season recording 160 total tackles, four interceptions (1 TD), and 33 pass deflections. But despite being a starter on the Super Bowl Champion Baltimore Ravens, he struggled in 2012. Last season according to Pro Football Focus, teams during the regular season threw for 1,000 yards, six touchdowns, and a 91.6 quarterback rating.
In five seasons with the New York Giants, Phillips (6-2, 217) proved to be a playmaker in the secondary, totaling eight interceptions and 26 pass deflections, in addition to 263 total tackles. Originally a first-round selection of the Giants in 2008, Phillips, 26, shined during the team's Super Bowl championship season in 2011, tying for second on the team with a career-high four interceptions and ranking fifth in tackles (72). But has been bothered by serious knee injuries last season and has had a history of having problems staying on the field. He is also a liability in coverage. He struggles man to man if he has to line up across a tight end and has issues with his assignments and awareness on the football field If he can stay healthy, he can make an impact with his hard hitting playmaking ability but again that is a huge IF.
Im just not too thrilled with these additions. These are two guys that have potential but haven't been incredibly overwhelming throughout their respected careers. Who knows maybe they just need new scenery but Eagles fans should not be too thrilled with these additions. The only bright side is the Eagles have brought in some physical players, something we have been lacking in our secondary for years and guys who are familiar with playing in a 3-4 defense. The Eagles now have their secondary set but I see this only being a short term fix and still need to address the secondary in this upcoming April's NFL Draft or Free Agency because I don't know if the Eagles find success with these moves.

Email: Eagle Jeff
EAGLE JEFF: My name is Jeff Warner, but some of you may know me as "Eagle Jeff". I am a Philadelphia Eagles Insider for Sports Radio ESPN Deportes Lehigh Valley and 1460 The Ticket in Harrisburg. Do you love Eagles football? Do you bleed green? If so, you are in the right place! My blog is your destination for all of your Philadelphia Eagles news, as well as my opinions and knowledge on everything Eagles. I eat, sleep and breath Eagles Football so I can provide you all the information you need (and then some) to keep up to date on what is happening with our beloved Birds. I grew up in Emmaus, PA and have recently graduated from the Broadcasting Institute of Maryland in Baltimore, where I studied sports broadcasting. My goal is to someday have my own show and cover the teams I love. I am a die-hard Philly sports fan, but a fan of the Eagles above all else. I have a passion for sports as well as radio broadcasting, so I cannot help but feel blessed to be where I am at today as I constantly try to improve and succeed.