From Butcher To Baronet: The Story Of Sir Roger Tichborne
Roger Tichborne was meant to inherit a title and a vast fortune, but his life ended in tragedy when a ship he was on wrecked off the coast of Brazil in 1854. But rumors persisted that an Australian ship had recovered some survivors, and Roger's mother, Lady Henriette Tichborne, was sure her son was among them. She placed ads in newspapers in Australia, offering rewards for any information, and rejoiced when Roger turned up one day in 1865. But the rest of the Tichborne family wasn't convinced, and the trial over whether Roger was really Roger, instead of a butcher named Arthur Orton, lasted 188 days, one of the longest trials in British history. Host Dana Schwartz gets into all the details of this imposter baronet in this episode of Noble Blood.
Roger Tichborne was educated in France, and joined the British military, spending his leaves with his uncle Edward. He fell in love with his beautiful cousin, Catherine, and she returned his affection, but Edward was against the match. "Lovesick, lonely, and desperate, Roger needed to get away," Dana says. So he resigned from the military and decided to go on a tour of South America. He traveled through Chile, crossed the Andes, and on to Brazil, before boarding a boat called La Bella in Rio de Janeiro, bound for Jamaica. "No one aboard La Bella was ever heard from again." 
But Lady Tichborne was sure he was still alive, and she placed advertisements in papers all through Australia. One such ad caught the eye of a lawyer, who had a poor client named Thomas Castro who claimed all his papers and possessions had been lost in a shipwreck. The lawyer decided Thomas must actually be Roger Tichborne, and Thomas agreed that he was. He claimed to have been rescued from the sinking Bella and taken to Melbourne, where he got a job at a man named William Foster's cattle station as an apprentice butcher. "His memories addled from the trauma of the shipwreck, he had made up the name Thomas Castro, taking on the surname from a kind family he had met in South America," Dana says. "But now the memories were flooding back. He was actually Roger Tichborne, and all he needed was enough money to get back to England to see his mother in order to prove it." So he headed to England to Lady Tichborne, who immediately embraced him as her son. 
But, Dana says, "the rest of the Tichborne clan remained less than convinced." Firstly, Roger had been a lean, handsome man; "the Claimant," as he was often called, was nearly 400 pounds. Though Roger had been raised in France, the Claimant didn't speak a word of French or even with a French accent. He couldn't identify distant family members. "But...he did know small, strange details about Roger's life...the type of fly fishing tackle Roger had used...the name of the dog he had adopted in South America," Dana says. "On one hand, he knew where certain paintings were located in Tichborne Park, but on the other hand, he had referred to his mother…as Hannah, even though her name was Henriette."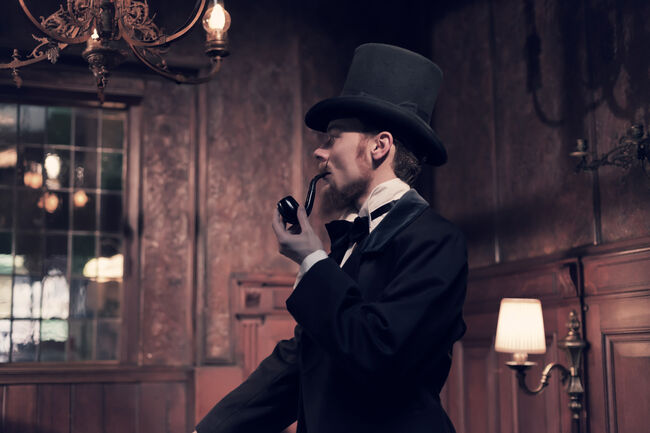 When Lady Tichborne died, The Claimant decided to have his day in court for the title. But the rest of the family had sent private investigators to Australia, to learn more about an English butcher's son named Arthur Orton, who the Claimant had said worked with him at the cattle station. "Foster's widow checked the old employment records. There was an Arthur Orton listed, but no one by the name of Thomas Castro, the Claimant's alias," Dana tells us. "The agent showed the widow the photograph of the man claiming to be Roger Tichborne. 'Oh, I do know him,' she said. 'That's Arthur Orton.'" 
His trial lasted 188 days, the longest trial England had seen up to that point, with over 200 witnesses lined up to testify, and a lot of public support from working class people, who saw him as something of a hero. They even contributed money to help pay his legal fees. "But the deliberation lasted only 30 minutes. The jury declared that he was not Roger Tichborne, and he was guilty on two counts of perjury and sentenced to 14 years in prison." 
That's not the end of the story, however; when The Claimant got out of prison, he looked more like Roger than before, stirring up the story again. He would confess to lying at one point, then retract his confession. Most peculiar of all, when he died - fittingly, perhaps, on April Fool's Day - he was allowed to be buried under the name Sir Roger. Find out more about Arthur Orton's life, and how his story inspired Mark Twain, George Bernard Shaw, and even writers on The Simpsons, on this episode of Noble Blood. 
If you want to be sure you're listening to the podcasts everyone else is checking out, iHeartRadio has you covered. Every Monday, iHeartRadio releases a chart showing the most popular podcasts of the week. Stay up to date on what's trending by checking out the chart here. There's even a chart just for radio podcasts here, featuring all your favorite iHeartRadio personalities like Bobby Bones, Elvis Duran, Steve Harvey and dozens of others.
Photos: Getty Images