Mary McCormack Is Taking Applications For Chelsea Handler's Boyfriend
On this episode of Life Will Be The Death Of Me, Chelsea Handler is joined by Mary McCormack, who's been best friends with Chelsea for years. Mary has all the tea on Chelsea's past dating life, and they have a lot in common: "We both have daddy s**t," Mary says. "[We] like looking up to a partner." That explains their mutual crush on Robert Mueller, but is there a theme? Mary settles in - with notes - to demonstrate that there is, and show how much Chelsea has grown. Mary tells the audience that she's taking applications for Chelsea's new healthy boyfriend, but he has to be a great skier. "It's mandatory because she's f**king into it, it turns her on, and that can heal it. They could have a fight and then you'd be back on board if you watch him ski." But that has to do with the overall theme of the men in her life, Mary points out. "If you're a guide, you're in luck. This b**ch loves a guide...If you have a knife on your belt, she's a goner." 
Mary runs down a list of Chelsea's relationships, starting with her old boss at E!, Ted. He followed the pattern because he was in charge of her, and was twenty years older. But then she went in a different direction with a younger animal trainer from Canada. "I thought he could handle a lion," Chelsea says, and Mary deadpans, "He can't." Next was a two-month fling with rapper 50 Cent. Chelsea remembers her friends being disappointed because when they hung out with him, he wouldn't drink or get high, and he went to bed early. "I'm like, 'what kind of rapper are you?'" Mary says. "I really liked him...he was the adult in the room for sure." After that, a dapper man with a European accent captured Chelsea's heart; "meanwhile," Chelsea says, "he was from Boston." Still, she agreed to marry him one night while they were on drugs: "I'm like, 'This is a good time to get proposed to and say yes,'" she laughs.
But she's come a long way, Chelsea insists, telling a story about taking a six-hour flight and sitting next to a guy who just couldn't stop farting, "and each time was like a f**king hurricane," she says. "Five years ago I would have been like, 'Hey, you f**king piece of s**t, tape your a**hole!' I wouldn't have been able to deal with it." But thanks to her therapy, she was able to remain calm. "I'm sitting there and I'm like, 'Just be cool. You're a different person now. You can meditate, do your breathing exercises... He's a person, he's got a soul. Try and think of it that way.'" Mary gets a little emotional about Chelsea's progress, saying tearfully that she thinks Chet, Chelsea's older brother who died when she was nine years old, would be very proud of Chelsea today. As horrible as it was for her to lose her brother, "part of who you are is that scar," Mary says. "Scars...you wear them with pride. You survived something, and you're different from it...makes you more f**kable."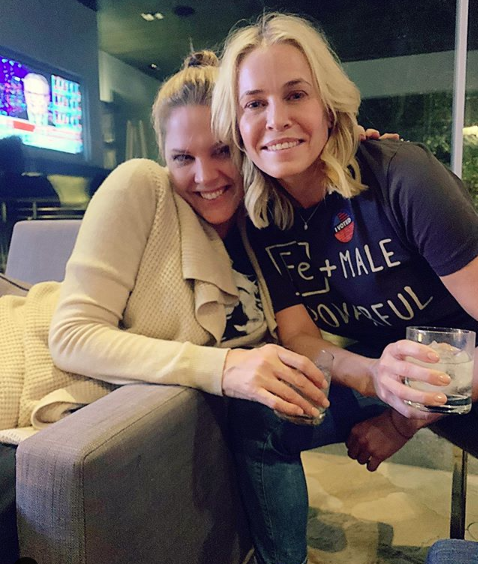 Join Chelsea and Mary to learn more about Chelsea's dating history, what she's really looking for in a relationship, and how she used to have to take her top off to eat soup, on this episode of Life Will Be The Death Of Me.
If you want to be sure you're listening to the podcasts everyone else is checking out, iHeartRadio has you covered. Every Monday, iHeartRadio releases a chart showing the most popular podcasts of the week. Stay up to date on what's trending by checking out the chart here. There's even a chart just for radio podcasts here, featuring all your favorite iHeartRadio personalities like Bobby Bones, Elvis Duran, Steve Harvey and dozens of others.
Photo: Getty Images