Matt And Brad Kirouac Hit The Road To Cuyahoga In Parklandia Podcast
Married couple Matt and Brad Kirouac left their hometown of Chicago to live year-round in an RV with their dog, Finn, traveling all over America to visit as many of our incredible national parks as possible. For the inaugural episode of their podcast, Parklandia, they go to Cuyahoga Valley National Park just outside of Cleveland, Ohio. Though it's a relatively young national park - it was established in 2000 - this beautiful area filled with winding trails, majestic waterfalls, and lush foliage gets around two million visitors a year, and has a fascinating history. Matt and Brad took a couple of friends along to enjoy the scenery, wine tastings in the vineyard, and even a murder mystery dinner theater on a train. 
The Cuyahoga Valley River, not too long ago, was so polluted with chemicals and gasoline that the water actually caught fire more than a dozen times between 1868 and 1869. "This was clearly a place that needed conservation," Brad says, and Matt agrees: "I mean, if water is burning, you have a problem on your hands." TIME magazine kicked off an effort to save the river when it published an op-ed that told readers the river "oozes, not flows," and that "a person does not drown, but decays." This "brutal takedown," as Matt calls it, led to water quality legislation, and then protection as a national recreation area in the 1970s before it was upgraded to a national park. Now, the Cuyahoga River is returning to its former glory. "I mean, the water is still not fit for swimming," Brad warns, and "any fish...probably have like ten eyes like that Simpsons episode." But even so, it was recently named the River of the Year from the American Rivers Conservation Group, which is like "the Oscars of rivers," Matt says. Brad loves the story about the river, because it reminds us that "by protecting and preserving the land, we can bring things back from a fiery death." 
And it's a good thing, too, because the Cuyahoga Valley and river are gorgeous sights worth preserving. Cuyahoga is also known for its more than seventy waterfalls; "It's basically a TLC video out here," Matt says. But Brandywine Falls might be the crown jewel, so the guys recommend the Brandywine Falls trail. It's not too arduous for the casual hiker, and the payoff is amazing: "It's definitely got the 'wow' factor," Matt says. "It kind of pours and drapes over this really jagged, rocky face, creating this really distinct visual...It's really special, and the fact that it's so surrounded by these super bright green trees...It's very striking."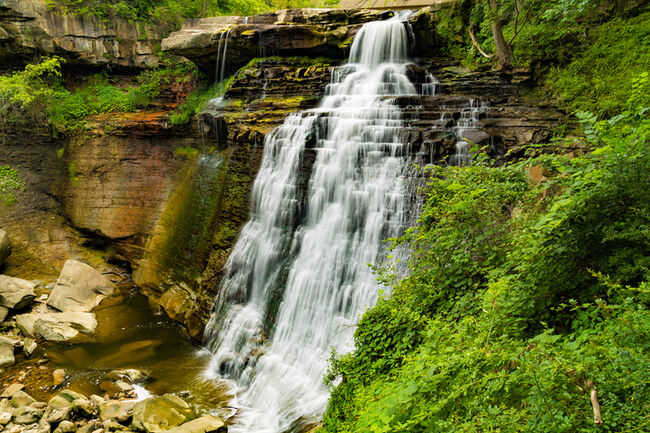 They also recommend a spin on the Cuyahoga Valley Scenic Railroad, a train that takes riders directly through the park. Several themed rides are available, from a Polar Express ride with pajamas and hot chocolate to wine and craft beer tastings. The guys opted for the murder mystery ride: "As someone who loves murder mystery dinner parties almost as much as I love national parks," Matt says, "the Cuyahoga Valley Scenic Railroad is really like my own personal Venn diagram of things that make me happy. I was on cloud nine that two of my most beloved activities are combined in one for the first time ever." Plus, it provided a singular opportunity to dress up, which Matt did so convincingly that people thought he was a cast member. "They actually tried to confiscate the hat when the ride was over, because they thought I was stealing a prop or something," Matt remembers. "...It was my hat."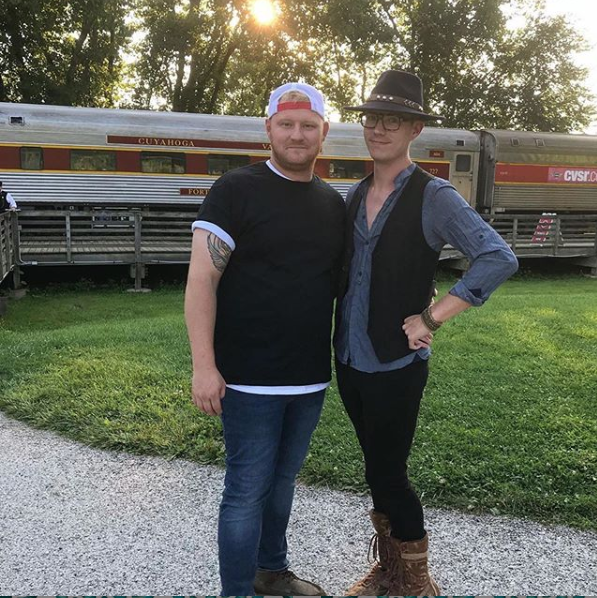 Join Matt and Brad to find out more about their new life on the road, the Cuyahoga Valley vineyard where they stopped for a nice chilled rosé, and of course the delicious food they enjoyed, from diner breakfasts to ravioli creations, on the first episode of Parklandia.
If you want to be sure you're listening to the podcasts everyone else is checking out, iHeartRadio has you covered. Every Monday, iHeartRadio releases a chart showing the most popular podcasts of the week. Stay up to date on what's trending by checking out the chart here. There's even a chart just for radio podcasts here, featuring all your favorite iHeartRadio personalities like Bobby Bones, Elvis Duran, Steve Harvey and dozens of others.
Photos: Getty Images